Do you remember the 1996 game between #2 Florida State vs #1 Florida? The game where the #1 ranked Florida Gators came in as a favorite, and people thought there was no answer for their vertical passing game? The game where Mickey Andrews decided to hit UF's Heisman-winning QB Danny Wuerffel every play, and Spurrier whined about it at the end of the game? Yeah, that one. Football might protect the quarterback more these days, but this will be key if FSU is able to pull the upset. The #1 rated Freshman quarterback is still a Freshman quarterback and prone to mistakes in big games. Whatever your age, no quarterback is immune to being rattled when under constant pressure.
Rattle that QB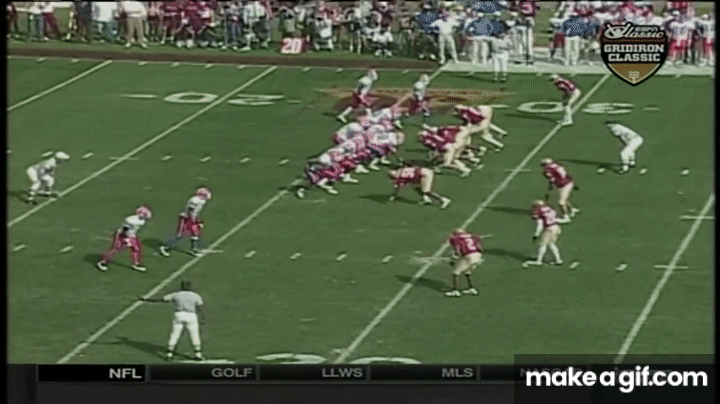 Let's step back into the Wayback Machine. In 1996, the thought of stopping Spurrier's "Fun 'n' Gun" offense was inconceivable. The Heisman-winner-to-be, Danny Wuerffel, would throw for nearly 40 touchdowns that year. Although Florida made the necessary adjustments in the bowl game (Editor's Note: Whoever made these bowl matchups should've been strung up and shot. In the '90's, FSU and UF squared off in bowl games after the '94 and'96 seasons), Mickey Andrews had the perfect game plan to make it painful for the Gators to pass. Just have a look at Andre Wadsworth giving Danny Wuerffel a taste of the grass in Doak Campbell Stadium.
Dabo Swinney went with Trevor Lawrence as his starting quarterback because of his ability in the vertical passing game. One of the things Florida State must do is keep Lawrence running for his life. While FSU is out-manned on paper, Clemson has not seen the pressure that Harlon Barnett's Cover 4 defense brings.
Hit him at every opportunity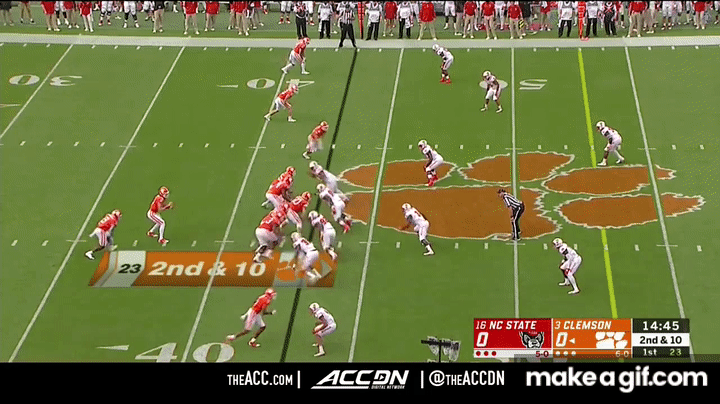 The Florida State rush defense has been amazing this season, ranking near the top in college football. In the GIF above, Clemson runs the Zone Read (as they do many times each game). Lawrence keeps the ball, as the playside defensive end commits to the tailback.
Instead of playing the back inside, I would love to see our defensive end trust that the guys beside him will tackle the tailback, and instead key on Trevor Lawrence. As your favorite analyst says, "Hits add up."If Dabo is willing to put his star freshman in this position, then we need to capitalize on it. I would let the interior line and linebackers worry about the running back, and instead have Burns, Robinson, and Co. get in a few, uh, "Extremely Clean" decleaters in on Lawrence.
Play Action? Blitz! Blitz Blitz!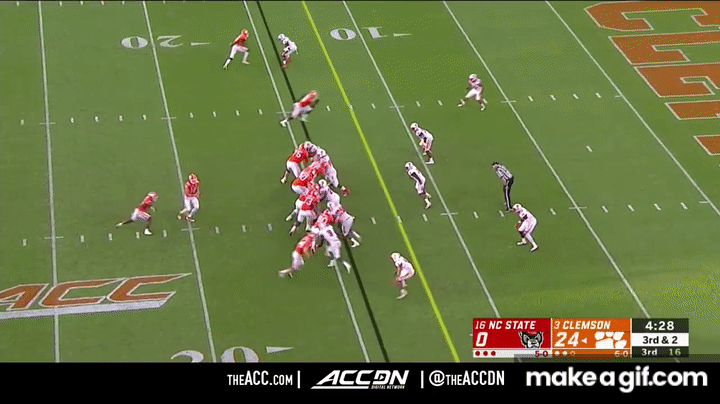 The North Carolina State defensive end gets absolutely fooled in the GIF above. Every time I see this in the film breakdown, all I can think of is free hits on Trevor Lawrence.
Clemson's offense is very similar to our own. There is a lot of smoke and mirrors, and a lot of misdirection. Florida State cannot worry about the eye candy; instead, do your job. If you get a free shot like this, take it. FSU will see a lot of play action and jet sweep motion, but they cannot fall for it. Get after that quarterback!
If we are like NCSU in the GIFs above and do not sack this quarterback, he will have a career game. There's a reason he's starting as a true freshman – his arm talent adds a dangerous dimension to the Tiger offense.
With the nation's #2 sack leader – Brian Burns – and the defense at #32 in the nation at sack rate, we must use it to our advantage. If we are to win this game, we need to hit Trevor Lawrence early and often.
Keep the FQ experience ad-free
A voting ballot for our weekly top 25 FSU Twitter Poll
Inside Information from former FSU player James Coleman
Weekly Game Previews
Weekly live chats in our discord channel and YouTube Channel